Made in France… in the Cantal.
Available worldwide
Faced with the environmental issues, we have to innovate and invest constantly to be sustainable and create long-term industrial partnerships"
Efficiency that is unique in Europe
Our family-run, independent business is located in the centre of France and is the acknowledged specialist for printing on substrates intended for confectionery, agri-food, pharmaceutical and cosmetic applications.
Our quick reactions and flexibility guarantee the most competitive prices in the market.
We invest 10% of our turnover every year in R&D and new equipment.
Experimenting in new printing techniques, renewing tools and machinery, our motto is unceasing change and investment in the future to ensure we are fully capable of responding, regardless of your constraints or demands.
We have expertise in all modern printing techniques (flexography, heliography, offset and digital). This broad technical flexibility means that we can offer optimum efficiency that is unique in Europe.
Environmentally-aware
Over 90% of our printing waste is recovered and recycled industrially. We also take a proactive approach towards energy recovery using discharges from our chimneys.

We mainly print on 7 to 70 µ alufoil and associated multilayer films, but also upon request on paper, film and all types of multilayer film that we produce or buy in.

We consume more than 50 million m2 of print substrate every year.

We can supply all types of customised packaging and specific cut-out for small, medium or large volumes.
Given our national, European and international customer base in the confectionery, agri-food, pharmaceutical and cosmetic sectors, we can provide solutions for products intended for the world market.
Nearly two-thirds of our business go to export. We have numerous agents or sales representatives to serve our customers in the best possible way on all continents.
Market distribution of turnover in 2021
60%
Confectionery
–
30%
Dairy products
–
10%
Pharmaceutic and cosmetic
Changes in Export/Global turnover
AEO status secures the international logistics chain and combats all types of fraud. The goal is to facilitate international trade.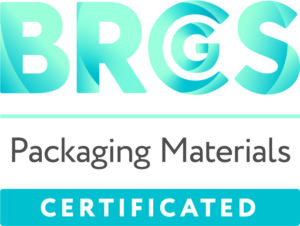 The BRC Global Standard for Packaging and Packaging Materials (BRC Packaging) gives safety and quality guidelines for packaging manufacturers to ensure the safety and quality of food products.
Our company has several clean rooms
These cover nearly 1,000 m2 used for printing and cutting.